Your breakroom is the heart of the workplace. There, employees can recharge and refuel. Which breakroom solution is best? An office pantry and a Micro Market are two popular choices. Both are convenient breakroom solutions. Either one can provide tasty snacks and refreshing beverages. Both solutions can also improve morale. It's hard to pick one of them. They're both excellent options.
However, they differ in their setups and offerings. How can you decide? The best one for your Kansas City company depends on your needs and preferences.
Here are some key differences between the two. That way, you can decide what's best for your company.
Set up & Space Requirements for a Kansas City Office Pantry or Micro Market
Whether large or small, we can set up your breakroom for success. Yet, your space may play a role when selecting the best breakroom solutions. A Kansas City office pantry service is excellent for smaller breakrooms. It can feature bulk dispensers and snacks on shelves. It might also have a fridge for storing fresh food and beverages. We'll design your office pantry to fit your space perfectly.
A Micro Market can also be customized to fit your breakroom. This breakroom solution shines in a larger space. With glass-front coolers and open shelving, it can offer hundreds of refreshments. Our Kansas City Micro Markets also have a self-service kiosk for a convenient shopping experience.
Variety & Customization in Kansas City Micro Markets and Office Pantry Services
At American Food & Vending, we take the time to get to know you. Imagine a custom menu of products that your employees would love. You can customize that with American Food & Vending as your breakroom service partner.
Some favorite office pantry items include bulk snacks like trail mix, cereal, and goldfish. We can also have single-serve snacks. Chips, granola bars, candy bars, and fresh fruit are classics. Don't forget to include beverages to quench employees' thirst. Some excellent options are sodas, sparkling water, energy drinks, and juices. Let us know what you want to see in your Kansas City office pantry. We can also keep your office pantry service on a monthly budget.
You can often include a greater variety of products with a Kansas City Micro Market. Offer fresh foods, meals, snacks, and beverages. You can also have a wide selection of healthy options. Some Micro Markets rival the grocery store! Employees can find sandwiches, salads, candy bars, and more. The self-service nature of Micro Markets means employees can shop whenever they'd like.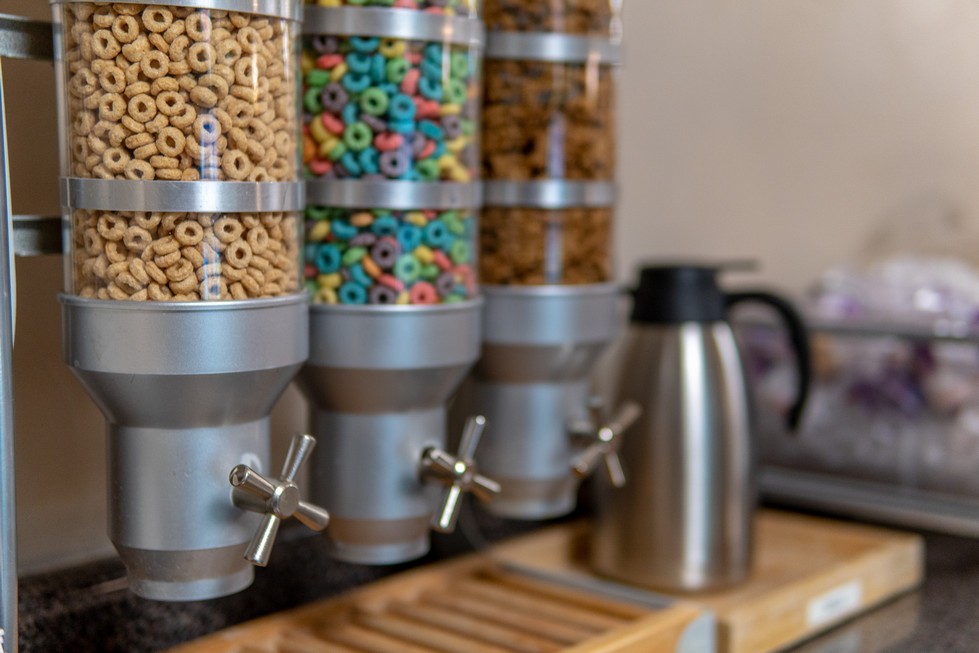 Convenient Kansas City Breakroom Solutions
We design and plan our breakroom services to maximize convenience. Our goal is a hassle-free experience for you and your employees. We simplify our Kansas City office pantry service with monthly invoicing based on consumption. That way, employees can enjoy all items for free.
In our REFRESH EXPRESS Micro Market, employees pay at the self-serve kiosk. We also use a mobile app. That makes payments very simple! You can also subsidize some or all items in the Micro Market. This is an excellent employee perk! If you choose this option, the cost is invoiced monthly.
Restocking & Servicing Your Office Pantry or Micro Market
We ensure your office pantry or Micro Market is always ready to use. How does it work? For our Kansas City office pantry, we include "white-glove" service. We use a custom service schedule based on your needs. For example, if you have a special meeting and want to order extra refreshments, just let us know! You'll have a dedicated account manager. They'll work with you on your orders and service frequency.
Our Kansas City Micro Markets use the latest technology. This helps us track inventory from afar. That way, we know what you need before we leave the warehouse. Our servicing visits match your needs. We'll keep your REFRESH EXPRESS Micro Market filled with your favorite products. Plus we also clean and check inventory during each visit.
Choosing the Best Breakroom Solution for Your Kansas City Workplace
Now you know the differences between an office pantry and Micro Market. This can help you make an informed decision. Either option offers many benefits for your workplace. Boost productivity and employee satisfaction by upgrading your breakroom. Put smiles on your team's faces with a Micro Market or office pantry.
Are you ready to refresh your breakroom? Contact American Food & Vending at 1-800-466-9261 or visit us online. We look forward to working with you.