Employee wellness has become increasingly popular in recent years and for good reason. It's important to prioritize the health and well-being of your team, and taking steps to promote wellness can positively impact employee satisfaction and productivity.
Are you looking for ways to promote healthy habits in your Phoenix breakroom? Look no further than American Food & Vending. Our team is dedicated to helping you create a breakroom environment that encourages healthy habits and boosts productivity. Keep reading to learn more about our Phoenix refreshment services and how we can help you prioritize employee wellness.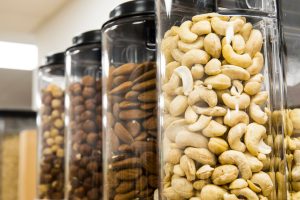 Fuel For Productivity & Connection With A Phoenix Pantry Service
An inviting office pantry can foster community while supporting employee wellness. American Food & Vending's office pantry service offers a range of healthful options tailored to your employees' needs. Stocking fresh fruits, vegetables, and nourishing snacks fuels productivity and provides a space for employees to connect and recharge during their breaks.
Promote Employee Wellness With Clean & Refreshing Water
Having access to clean water is essential for employee well-being. Your breakroom can provide high-quality drinking water with a Phoenix water filtration service. Staying hydrated promotes energy and productivity, keeping your team feeling their best.
Nutritious Grab-And-Go Options
Our Phoenix REFRESH EXPRESS Micro Markets offer convenient and healthy food choices in your breakroom. With various grab-and-go meals and snacks, your employees can make better food choices during their breaks. These nutritious options support overall wellness and sustained energy throughout the day.
Healthier Vending Choices In Phoenix
Upgrade your breakroom with American Food & Vending's healthy vending solutions, filled with wholesome snacks, foods, and beverages. Say hello to a healthier workplace atmosphere and encourage your employees to adopt better eating habits, promoting their long-term well-being.
If you prioritize the health of your Phoenix employees, you'll see a positive impact on their productivity and satisfaction levels. Our team can help you transform your breakroom into a hub of wellness, which will improve the overall culture of your workplace. To explore our Micro Market, dining, vending, office coffee, and pantry services, visit our website or call 1-800-466-9261. We're eager to hear from you!