A hot, tasty coffee can help your employees reset and recharge. Each sip of quality coffee offers a mini getaway. Refreshed after a coffee break, your team is ready to return to work. At American Food & Vending, we offer a premium Nashville office coffee service that features modern coffee equipment. One of our most popular options is the bean-to-cup coffee service. This machine provides many benefits. It can even elevate morale in your workplace. Are you ready to discover how?
Benefits of an Nashville Bean-to-Cup Coffee Service
Have you ever had the pleasure of trying coffee from a bean-to-cup service? It's quite the experience! This cutting-edge coffee technology is the perfect solution for many breakrooms. Plus, it adds a spark to your Nashville breakroom that can help create a positive environment. How? Here are the benefits of a bean-to-cup service.
Unparalleled Freshness
Not all coffee is made equal. Freshly ground coffee has a better aroma and flavor. Our Nashville bean-to-cup coffee service serves the freshest possible coffee. Beans are ground on demand. Can you get any fresher than that? Every cup is infused with freshly ground coffee's aromatic flavors and nuances. A cup of coffee from a bean-to-cup service rivals that of cafés. It's so tasty it can even improve your Nashville employees' mood.
Get More Customization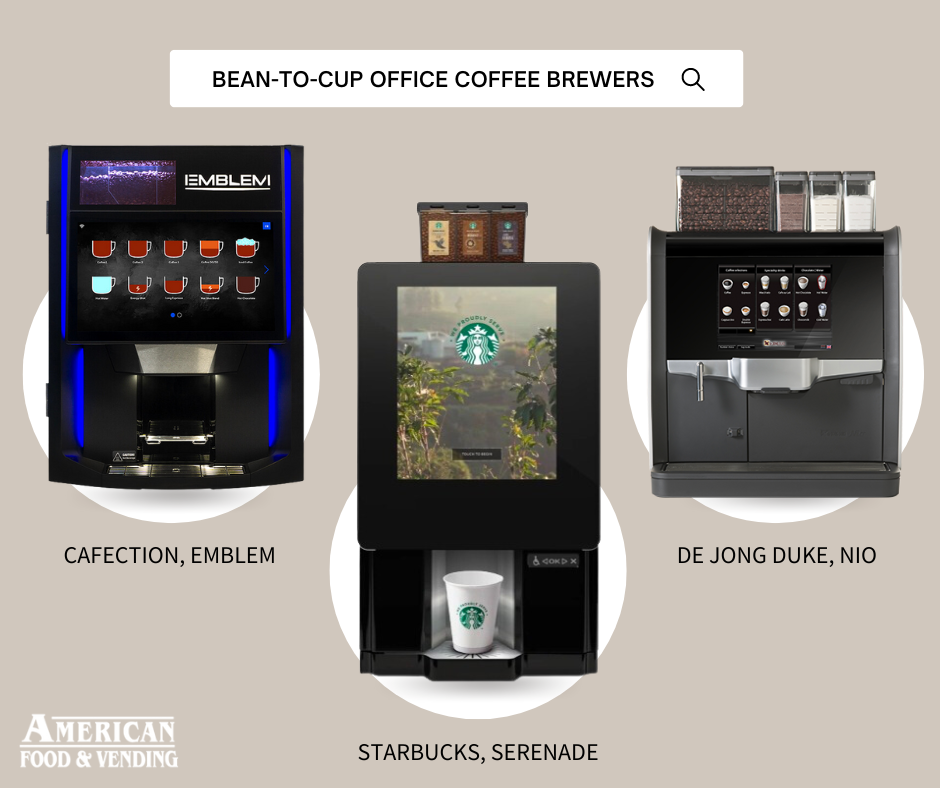 Each of your employees is unique. That means they each have their own favorite drink. A bean-to-cup machine keeps everyone happy. Each employee can adjust the coffee strength and size of their drinks. Our Nashville bean-to-cup service even makes specialty drinks like lattes and cappuccinos. There are alternatives like hot chocolate for those who don't like coffee. In other words, employees can tailor their beverages to their preferences.
Want even more? Create a full Nashville office coffee station in your breakroom. We'll stock it with everything you need. From sugar to creamer, we can even offer flavored syrups or creamers. Now, that's a custom cup of coffee!
Boost Employee Satisfaction
Investing in high-quality coffee options can boost morale. An espresso can quickly put employees in a good mood when they enter the office each morning. Or, a cappuccino could be the thing to get through the afternoon slump. Adding a bean-to-cup service to your Nashville breakroom shows your employees you care about them. Plus, it fosters a sense of happiness and well-being. This is excellent news for your company because happy employees are productive employees. That's a win for everyone!
Enjoy a Bean-to-Cup Machine from a Nashville Full-Service Breakroom Solution Provider
When you work with American Food & Vending, you have a true partner in your Nashville breakroom. We'll take care of everything your office coffee service needs. That includes maintaining your bean-to-cup machine. Plus, we'll ensure your favorite coffee beans are always in stock. If you run into trouble, don't worry! We address any technical issues swiftly.
Working with American Food & Vending makes offering your team superior office coffee easy. Let us know what you have in mind! Our services are customized to match your Nashville workplace's unique needs.
Contact American Food & Vending at 1-800-466-9261 to learn more about our coffee and tea service, vending, Micro Markets, or water filtration services. We look forward to helping you achieve your best breakroom!