Creating a warm and welcoming workspace requires more than just a desk and a chair. Having a great breakroom where employees can unwind, connect with colleagues, and recharge is essential. Unfortunately, many companies underestimate the importance of adding an office pantry service to their employee benefits package.
At American Food & Vending, we understand the importance of a high-quality pantry service and its impact on team morale and productivity. If you're ready to transform your Dallas breakroom, read on to discover the perks a pantry service can bring to your business.
What Is An Office Pantry Service?
A premium pantry service provides your Dallas-based staff with free snacks and beverages. This gesture is an excellent way to acknowledge their hard work and foster a pleasant atmosphere. We'll help you create a customized Dallas pantry menu that aligns with your budget and preferences, including healthy selections. Plus, you'll have an assigned account manager to ensure clear communication every step of the way. Let us help you transform your breakroom into an inviting space that your team will love!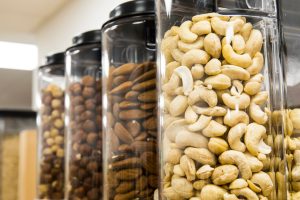 White-Glove Service For Your Dallas Pantry Service
Partnering with American Food & Vending for your office pantry service means we take care of everything. No, really! We handle stocking and inventory management, making your life easier. Once your pantry is installed, we ensure it's always well-stocked and maintained, allowing you to focus on other important tasks. This convenient solution benefits both you and your employees.
Increases Employee Retention & Satisfaction
One of the best things about having a Dallas pantry service is attracting and retaining top talent while boosting employee satisfaction. Offering free snacks and drinks is an easy and budget-friendly way to recruit and show gratitude to your staff. Who can resist free snacks? Your team will definitely appreciate it!
Boost Morale & Workplace Culture With Free Snacks
Creating a positive workplace culture is essential, and happy employees tend to be more productive. With our top-notch Dallas pantry service, you can boost morale and productivity. Providing tasty snacks and beverages keeps your employees fueled and energized, helping them stay focused and alert.
A quick snack break or a cup of coffee can also work wonders for their mood and motivation. Additionally, a dedicated space for employees to unwind and enjoy refreshments encourages collaboration, sparks creativity, and enhances efficiency.
Boost Employee Benefits With An Office Pantry Service
Upgrade your Dallas breakroom with American Food & Vending and give your employees a breakroom they'll love! Contact American Food & Vending at 1-800-466-9261 for more information about our REFRESH EXPRESS™ Micro Markets, coffee and tea service, vending, or water filtration services. We look forward to working with you!