Looking to improve your St. Louis refreshment services? Consider our REFRESH EXPRESS™ Micro Market service! These mini convenience stores can be installed right in your breakroom, providing employees with a range of refreshment options steps away from their desks. With self-checkout kiosks, mobile payments, and more, Micro Markets offer a convenient and enjoyable refreshment experience.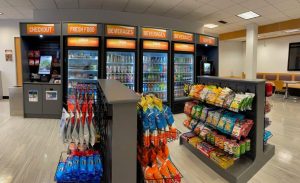 American Food & Vending provides top-quality products, efficient service, and a welcoming breakroom environment for your employees. A Micro Market is the perfect solution for those looking for a wide range of grab-and-go snacks, fresh and healthy food options, and wellness support. Let us help you make it happen!
Keep reading to discover a few benefits of a Micro Market service in St. Louis today.
Micro Markets provide more variety in your St. Louis breakroom
Boost your St. Louis breakroom with REFRESH EXPRESS™ Micro Markets that offer a vast array of snacks, food, and beverages. With dry shelves stocked with chips and trail mix, coolers filled with sandwiches and drinks, and counter space for a modern office coffee brewer, your employees can access endless options.
Mix things up with rotating selections of classic snacks and healthy treats to keep your employees engaged and excited about this fantastic employee benefit. Improving your breakroom solutions has never been easier!
A quick and c
onvenient breakroom solution
Shopping for snacks and beverages at a REFRESH EXPRESS™ Micro Market is a breeze. With self-checkout kiosks available all day long, employees can easily browse and purchase their favorite items. Multiple payment options are available, including credit cards and a mobile app called CHOWIT. This app allows employees to scan and pay using their smartphones, track purchases, add funds, and earn rewards.
It's a convenient solution for all employees, whether they arrive early, leave late, or forget their wallet at home. Plus, with a Micro Market in the office, there's no need to rush to a nearby store or restaurant during breaks. These St. Louis Micro Markets are not only beneficial for employees but also good for your business.
Upgrade your breakroom with a REFRESH EXPRESS™ Micro Market! 
Treat your employees to a REFRESH EXPRESS™ Micro Market and improve their breakroom experience! You can easily set up this innovative service in your breakroom and enjoy its many benefits right away. To learn more about our Micro Market, office coffee, office pantry, vending machines, and water filtration services, please contact American Food & Vending at 1-800-466-9261 or visit us online. We're excited to work with you!